Schade Hill Public Policy Pain Champion Award
The Schade Hill Public Policy Award is an annual award created by the Texas Pain Society to recognize the outstanding work of an individual or group of individuals who have helped make positive changes in the world  of pain medicine. 
This award will be presented to an individual each year during the TPS Annual Meeting.
This award is inspired by the countless hours that  Drs. C.M. Schade & Stratton Hill dedicated to Texas Pain Society to help craft the pain  medicine laws that govern Texas today. 
---
 2019 Schade Hill ‐ Public Policy Pain Champion Award Winner
Representative J.D. Sheffield, DO 
Dr. J.D. Sheffield was elected to the Texas House of Representatives in 2012 to serve the citizens of Texas House District 59, which includes Comanche, Coryell, Erath, Hamilton, McCulloch, Mills, San Saba, and Somervell Counties. He was re-elected to his 4th term in the 2018 March Primary. 
Dr. Sheffield has been practicing family medicine in and around Gatesville for over 25 years. As the only rural physician in the Texas Legislature, Dr. Sheffield has been honored to serve on the House Public Health Committee for all three terms, and currently serves as Vice-Chairman. 
Other committee assignments have included Appropriations (Article II Subcommittee), Corrections, Rules and Resolutions, and Select Committees on Aging and Opioid and Substance Abuse. He was also recently appointed to serve as Co-Chair of the Joint Committee on Prescribing and Dispensing Controlled Substances. 
Dr. Sheffield has been recognized by numerous organizations for his contributions during his time in office. He was named a 'Defender of Life' by the Texas Alliance for Life and a 'Friend of the Texas A&M System' for his work on educational issues. He has also received accolades from the Texas Osteopathic Medical Association, Texas Medical Association, Texas Pediatric Association, and numerous retired teachers organizations statewide and in House District 59.

Dr. Sheffield is a graduate of Loraine High School. He attended Western Texas College in Snyder, Texas, and graduated cum laude from Howard Payne University in Brownwood, Texas. Dr. Sheffield earned his medical degree at the University of North Texas Health Science Center (previously the Texas College of Osteopathic Medicine). His medical training continued with an internship in family medicine at the University of Texas Medical Branch in Galveston, Texas, and following that he served his family medicine residency in Pueblo, Colorado.

Dr. Sheffield and his wife Janice, live in Gatesville and are members of First Baptist Church of Gatesville.
---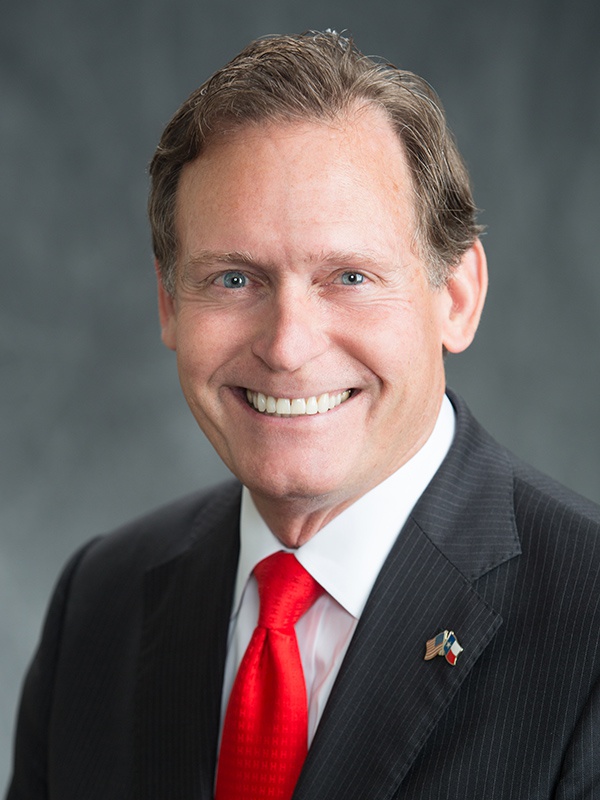 2019 Texas Pain Society "Patient Advocate Award - Representative John Zerwas, MD
In 2017, Representative Zerwas was named Chairman of the House Appropriations Committee by Speaker Joe Straus. Previously, Representative Zerwas served eight years on the House Appropriations Committee, four of which he served as chairman of the Appropriations subcommittee on health and human services. Zerwas is a member of the Legislative Budget Board, is past chairman of the House Committee on Higher Education, and a past member of the House Committee on Public Health.
In the 84th Legislative Session, Representative Zerwas served as Chairman of the House Committee on Higher Education. This was his first term to serve as the chair of this committee. Chairman Zerwas is an advocate for increasing access to higher education and growing opportunities for graduate medical education. Since 2009, Zerwas has also served on the Committee on Public Health, where he brings firsthand experience and knowledge of health care systems and policy to the committee.
A physician for more than 30 years, Representative Zerwas is one of four doctors in the Texas House of Representatives. His perspective is important at a time when health and human services is one of the fastest-growing areas of state spending. Dr. Zerwas is past-president of the American Society of Anesthesiologists. More than a decade ago, Dr. Zerwas co-founded a Houston area group practice which recently became part of US Anesthesia Partners, and he remains active in the operations of the partnership. He has previously served as the President of the Memorial Hermann Health Network Providers and Chief Medical Officer of the Memorial Hermann Hospital System.
Representative Zerwas has earned numerous accolades for his dedication to public service including being twice named one of the "Ten Best Legislators" by Texas Monthly. In 2017, he was named a Distinguished Alumnus by the University of Houston's College of Natural Sciences and Mathematics. In 2015, the Biotechnology Industry Organization provided Dr. Zerwas with national recognition as "BIO Legislator of the Year" for writing critical legislation that will preserve patient access to innovative and cost-effective biologic medicines in Texas. He has earned numerous accolades for his dedication to public service, which include the 2014 Coalition for Texans with Disabilities Award and the 2014 American Cancer Society Cancer Action Award.
November 2018
October 2017
October 2017
October 2016
October 2015 
October 2014 
October 2013
November 2012

Sherif Zaafran, MD
David Teuscher, MD
Representative Cindy Burkett
Representative Kenneth Sheets 
Senator Charles Schwertner and Mari Robinson, JD
Gay Dodson, R.Ph - Executive Director of the Texas State Board of Pharmacy
Division of Workers Compensation Staff 
Johnny Hatcher, GM, Regulatory Compliance and Security